Poems of freedom from behind iron bars, exile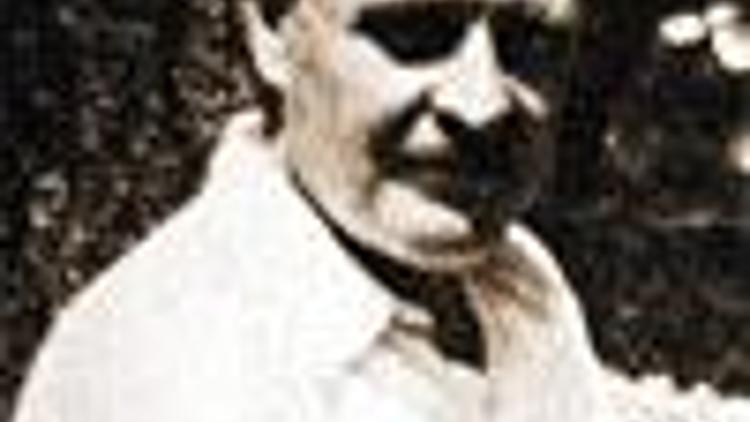 refid:10713439 ilişkili resim dosyası
ISTANBUL - Poet Nazım Hikmet's citizenship is restored 58 years after it was revoked and 46 years after he died. Considered one of Turkey's first modern poets, Hikmet's patriotism and rich use of free verse earned him the esteem of artists, intellectuals and champions of freedom of expression.
Nazım Hikmet Ran was born in Thessalonica in today's Greece in 1901. The son of highly educated parents from the Ottoman elite, Hikmet entered the Heybeliada Naval Academy in 1917 and graduated in 1919. Due to chronic pneumonia he suffered onboard a naval vessel, he was discharged halfway through 1920. The same year he won a poetry prize in a competition organized by the Alemdar daily. Considered one of Turkey's first modern poets, Hikmet's deep love for his country and rich use of free verse earned him the esteem of artists, intellectuals and champions of freedom of expression.
On Jan. 1, 1921, he and three other poets left Istanbul, which was then under allied occupation after the end of World War I, and joined the nationalist rebellion led by Mustafa Kemal
Atatürk
in Ankara.
He was later assigned to work as a teacher in Bolu. Soon afterward, however, Hikmet left Bolu to go to Moscow, registering at a communist university. Upon completing a course in economics and international relations in 1924, he secretly re-entered Turkey and started to work at the Aydınlık magazine.
Fugitive till the time of arrest and then 15 years jail

When most of the writers of Aydınlık were arrested in 1925, Hikmet became a fugitive until his arrest, whereupon he was sentenced to 15 years in prison. Later, he was sentenced to another three months in jail for being a communist. Hikmet secretly went back to Moscow, staying there until 1928. He was jailed on his return but he was able to benefit from a criminal amnesty granted by the government. He was released after trials lasting about six months.
He started to work at the Istanbul-based "Resimli Ay" magazine. He released several poetry books until he was charged with "inciting the public to ensure one class dominates the other" in May 1931.
During the trial he dismissed the charges but said: "Yes, I am a communist. I am a communist poet." The trial ended with Hikmet found not guilty.
He continued to release poetry books, some of which were seized, until 1933. In a trial that lasted almost a year, he was found guilty of forming a criminal gang and producing communist propaganda and was sentenced to four years. He was released after 18 months behind bars after another general amnesty was declared.
In 1935 he married Piyale Altınoğlu. This would be Hikmet's third marriage, the two before were in Moscow and did not last long. It was Altınoğlu's second marriage.
He soon started writing for the Akşam daily, wrote movie scripts and edited books to make ends meet. In the same year, his play "Unutulan Adam" (Forgotten Man) was staged at the Darülbedayı Theater.
He was arrested yet again Jan. 17, 1938, and the trial ended with Hikmet being sentenced to 15 more years in jail for "inciting military officers to rebel against superiors."
He was then tried in a military court and sentenced to an additional 20 years in jail for "inciting rebellion." Both sentences were combined and reduced to 28 years and four months.
He wrote some of his best poetry in prison, including his epic masterpiece, "Human Landscapes." The poetry he wrote in prison he managed to have smuggled abroad, bringing him international fame and the support of artists such as Pablo Picasso and Jean-Paul Sartre.
However, the state deemed his poems communist propaganda. Despite his protestation of innocence, it was only when Ahmet Emin Yalman from the Akşam daily started a campaign on his behalf in 1949 that the public took notice. Hikmet then went on a hunger strike several times and was hospitalized.
Release only after Democrat Party wins election

It was only after the Democrat Party, or DP, election victory in 1950 and the general amnesty passed by the new government that Hikmet was released after 12 years and seven months in jail.
He divorced his wife soon after his release and went to live with Münevver Berk, with whom he fell in love while in prison.
They had a son, Mehmet, in 1951. Despite a medical condition, Hikmet was called up for military service. On June 17, 1951, Hikmet escaped Istanbul and three days later Bucharest Radio reported his arrival in Romania. It was later reported his relative Refik Erduran had taken him by speedboat to reach Bulgaria but they had met a Romanian ship in the Black Sea and Hikmet boarded the ship. He later went on to Moscow. Hikmet's Turkish citizenship was revoked by a cabinet decision July 25, 1951.
Hikmet's work has been translated into many languages and his life after his escape was mostly dominated by trips around the world. Speaking at Moscow-organized World Peace Council meetings around the world, he condemned the Korean War, accusing the United States for instigating it. He also protested Turkey sending soldiers as part of the U.N contingent.
Polish citizenship

He was granted Polish citizenship because of distant Polish ancestry and took the surname Borzenski. He married Vera Tulyakova late in 1960.
He met up with Mehmet and Münevver in Poland in July 1961, though he soon left them there and returned to Moscow. In 1962, he received a Soviet passport. After attending a series of conferences around the world in 1962 and half of 1963, he returned to Moscow where he died from a heart attack on June 3, 1963.
He was buried in the Novodevickhiy Cemetery in Moscow. His poetry remained banned in Turkey until 1965. Even after the ban was lifted, many would hide their copies, in fear of being branded as communist.
Kripto Para Piyasaları için Bigpara
Born during the twilight years of the Ottoman Empire, Turkey's most renowned poet spent many of the first years of the Turkish Republic resisting against the state. For much of that time, as his poems gained international acclaim, the outspoken communist languished behind bars.