GOOD MORNING--TURKEY PRESS SCAN ON APR 15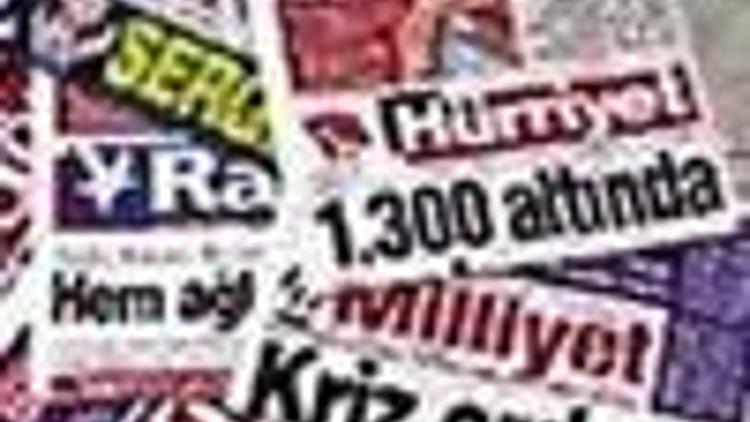 refid:8702892 ilişkili resim dosyası
These are some of the major headlines and their summaries in the Turkish press on April 15, 2008. Hurriyet English does not verify these stories and does not vouch for their accuracy.
HURRIYET
--THE BILL AMENDING ARTICLE 301 SENT TO PARLIAMENTARY COMMITTEE
Turkey's Parliament Speaker Koksal Toptan sent the bill amending Article 301 of the Turkish Penal Code (TCK) to the parliamentary committee on justice. Toptan said the justice minister should have the mandate to file a lawsuit rather than the president. The committee will discuss the proposal on Friday.
--ILHAN SELCUK UNDERGOES HEART SURGERY
A best-known Turkish columnist Ilhan Selcuk underwent a heart surgery and was reported to be in stable condition. The operation lasted for nine hours. "We have fixed the heart valve and by-passed four vessels. I am hopeful that he would recover soon," said Atif Akcevin, the doctor who operated on Ilhan Selcuk.

MILLIYET
--TOPTAN CRITICIZES, ERDOGAN DEFENDS
Regarding the amendment proposal on Article 301 of the Turkish Penal Code, Parliament Speaker Koksal Toptan said it would be the most appropriate thing to seek the approval of the justice minister for filing a case, as it was previously. "Otherwise, the office of presidency may be put in a difficult situation," Toptan said.
Premier Recep Tayyip Erdogan defended the amendment. "The presidency is a level above all parties. We took a step in the light of this fact," he said.
--PEACE BRIDE SENT HOME
The body of Italian artist Pasqualino di Marineo, also known as "Pippa Bacca" in her country, who was raped and murdered by Murat Karatas in Gebze town of the northwestern province of Kocaeli, was sent to her home country.
The artist's sister Antonietta Pasqualino said she saw great love and support in Turkey. "This means Pippa's journey worked," Pasqualino said.

SABAH
--TOPTAN: GUL WILL BE NEGATIVELY AFFECTED
Speaker of Turkish Parliament Koksal Toptan said that the authority to file cases based on Article 301 of the Turkish Penal Code should rest with the minister of justice. "If the authority is granted to President Abdullah Gul, this would negatively affect his status," Toptan said.
Turkish Prime Minister Recep Tayyip Erdogan said that the presidency is the most trustable authority to file cases based on Article 301. This article currently penalizes those who insult Turkishness.
--CAMPAIGN FROM NATIONALIST MOVEMENT PARTY
The Turkish Nationalist Movement Party (MHP) initiated a campaign against an amendment to Article 301 of the Turkish Penal Code. The MHP is broadcasting advertisements on Kanal B, Bengi Turk and ATA TV that show the party's opposition to the amendments to Article 301. The MHP also prepared an internet site to gather support against the proposed amendments to Article 301. This controversial article presently penalizes those who insult Turkishness.

VATAN
--DIFFERENT VOICES ON 301 WITHIN AK PARTY
Commenting on the bill which envisages granting the president the prosecution right regarding Article 301, Parliament Speaker Toptan said such an authorization might place the office of presidency in difficult situations.
Premier Erdogan replied to this comment in Qatar. "If we had left this issue to the justice minister, they would have said it was a 'political' move. Therefore, we authorized the president on the issue as it would be more reliable to do so," he said.
--WOMEN SAY FAREWELL TO PIPPA
A ceremony was held at the Italian Consulate in Ankara for Italian artist Pippa Bacca, who was raped and murdered by Murat Karatas, a released prisoner. Many women's organizations participated in the ceremony during which attendants carried placards saying "No to rapist violence of men" and "Peace."

CUMHURIYET
--TURKISH ECONOMY TO FACE STAGFLATION, WSJ
The Wall Street Journal newspaper argued that the Turkish economy is about to face stagflation (high inflation in a period of recession). According to the WSJ, inflation in Turkey is rapidly rising and growth rates are falling.
--SMOKING AGE IN TURKEY: 7
Istanbul University Medical Faculty's Dr. Firuz Celikoglu said that the average age a smoker starts smoking cigarettes in Turkey has dropped to seven. Dr. Celikoglu said that around 100,000 Turks lose life annually due to smoking related illnesses.

RADIKAL
--GOODBYE PIPPA BACCA
Several people chanted slogans against male violence against women during the funeral of Italian artist, "Pippa Bacca." Ufuk Uras, chairman of the Freedom & Solidarity Party (ODP) of Turkey, said he hoped that the wedding dress that she wore would become one of the symbols of peace in Turkey.
Giuseppina Pasqualino, who was known as "Pippa Bacca" in her country, was found dead in the town of Gebze in Kocaeli on Saturday. Thirty-three- year-old Bacca departed from the Italian city of Milan in wedding dress together with Silvia Moro, an artist friend, on March 8.
The two artists were hitchhiking to Israel to send a "message of peace" to the world.
--SERIOUS SITUATION WITH EU
Regarding the lawsuit filed for closing down the ruling AKP, Turkish Foreign Minister Ali Babacan said that if the party is closed down, there would be some economic consequences resulting from it.
Asked whether it might cause suspension of the country's membership negotiations with the EU, Babacan said, "I hope that such a development would not occur. We will work really hard for the fulfillment of reforms."

YENI SAFAK
--I WILL COME TO TURKEY FOR HOLIDAY, PIPPA'S SISTER
The body of Italian artist Giuseppina di Marineo, who was killed in Gebze, was place into a coffin together with her favorite green scarf and
returned home to Italy.
The artist's sister, Antonietta Pasqualino, thanked the Turkish people and Turkey's Premier for their friendliness. Pasqualino said she would come to Turkey for a holiday.
--CASE TO BE FILED AGAINST US FOR MERVE
The family of Turkey's national swimmer, Merve Terzioglu, is preparing to file a medical malpractice suit against a U.S. hospital. The body of Merve Terzioglu, who died at a hospital after  a car accident in the U.S., was returned to Istanbul.
The family of the record-holding swimmer decided to file a lawsuit against the hospital claiming that the hospital "left their daughter alone at her room and caused her to die."
Kripto Para Piyasaları için Bigpara