Turkey could use troops to backup its diplomacy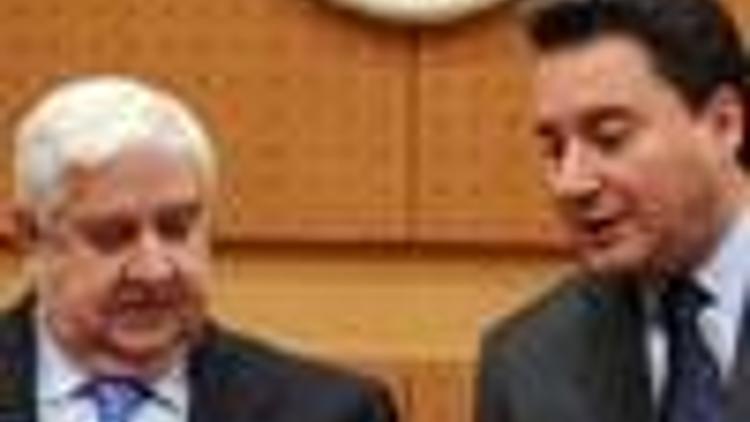 refid:10705549 ilişkili resim dosyası
ANKARA-Turkey continues efforts to bring together all parties in the Gaza crisis to find a peaceful end to the conflict. Foreign Minister Babacan meets his Syrian counterpart to discuss ways to secure a cease-fire to end the bloodshed
"We can send troops to the region if it is going to contribute to peace," government spokesman Cemil Çiçek said at the end of a Cabinet meeting.
The failure of Arab countries to adopt a joint position on the issue, which took a grave turn with Israel's ground operation into Gaza, further complicates efforts for peace. Prime Minister Recep Tayyip Erdoğan embarked on a regional tour last week to deliver a unifying message, while Ankara separately hosted Egyptian and Syrian foreign ministers over successive weeks.
"The international community must act in unity. Nothing is more valuable than the lives of people," Foreign Minister Ali Babacan told a press conference with his Syrian counterpart, Walid al-Moallem, who arrived in Turkey yesterday to discuss ways to secure a cease-fire to end the bloodshed. Both ministers repeated calls for an immediate ceasefire.
Two-phase plan

Earlier, the government unveiled a two-phase plan to overcome the stalemate within the Arab world. The plan involves a lasting ceasefire to be followed by reconciliation between Hamas and al-Fatah. Diplomats say Babacan told the foreign ministers of Islamic nations on the sidelines of the Jeddah meeting that the disagreement between the two groups was the major obstacle to peace.
Yesterday, Babacan said that his country would favor a ceasefire that would include international monitors to establish a truce between Israel and Hamas. "Any ceasefire should be monitored by international groups. Turkey would not shy away from undertaking such a mission if it were asked to contribute," he told reporters. Babacan said Syria also came up with good ideas to reach a solution, without elaborating further.
In an interview with al Jazeera, Erdoğan said Turkey could bring Hamas's conditions for a ceasefire to the attention of the U.N. Security Council.
The Council failed to agree Saturday on a statement calling for a ceasefire after nearly four hours of consultations in New York. "Unfortunately, no joint stance could be adopted due to the veto of the (council's) permanent members," said Babacan. In reply to a question, al-Moallem said: "We don't have much expectation from the U.N. Security Council. Israel is walking toward its objective by using the United States."
Despite the European Union's division over the war in Gaza Ğ though later united and announced as an error Ğ and the deadlock in the United Nations, efforts are in place for a peaceful solution. Turkey, as a country that enjoys dialogue with all parties, including Hamas, is pressing ahead with active diplomatic contacts and believes peace is possible under U.N. auspices.
"The United Nations is deadlocked; Arab countries are not willing to take one step further. But a solution outside a U.N. platform is unlikely," a Turkish diplomat said. Ankara is concentrating efforts on first silencing the guns and believes the elements of a ceasefire package must contain the lifting of the Israeli blockade in Gaza and address Israel's security concerns.
Telephone traffic

Erdoğan held telephone conversations with his Russian, British and Italian counterparts to discuss the situation in Gaza, while Babacan spoke on the phone with Britain's Foreign Secretary David Miliband and U.S. Secretary of State Condoleezza Rice, diplomatic sources said.
Behind closed doors, the country's top political brass reconvened at the Çankaya Presidential Palace following Sunday's extraordinary meeting. In addition to Babacan, Erdoğan attended the mini-summit hosted by President Abdullah Gül to formulate future steps in an attempt to help defuse the crisis.
Turkey's efforts are part of a policy to raise its influence by contributing to solutions for conflicts in the region. Ankara was disappointed when the indirect peace talks it had been mediating since May between Syria and Israel were dealt a blow by Israel's military incursion into Gaza.
"Turkey has a privileged position: it i anchored in the West but also has an influence in its region," said a Turkish diplomat. Government spokesman Cemil Çiçek said after a Cabinet meeting that Turkey was interested in the Gaza crisis because every negative development in the region dented efforts for peace across the world. Parliament will discuss the Gaza crisis today, he said.
Kripto Para Piyasaları için Bigpara
As Turkey looks to use both its regional influence and newly acquired U.N. Security Council mandate to step up diplomacy to end an Arab deadlock and bring all parties in the Gaza crisis together to find a peaceful solution to the conflict, late yesterday it announced it would consider sending troops if needed.