Turkey back in Vienna for sweeter memories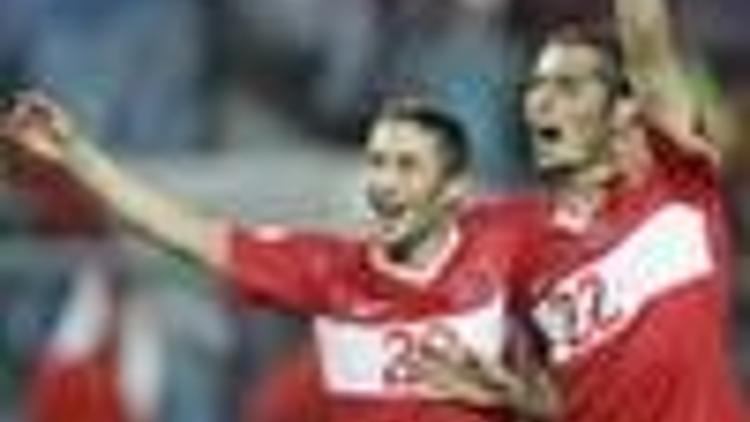 refid:10389426 ilişkili resim dosyası
ISTANBUL - Tonight's international friendly game against Austria may not be a crucial test, the Turkish national football team will want to win it anyway, even if for emotional reasons, as it is back to the Ernst Happel Stadium, where it displayed such heroic performances in this summer's EURO 2008
Arguably the most unforgettable of Turkey's numerous heroic performances at this summer's European Football Championship was its quarterfinal victory over Croatia on June 20 at the Ernst Happel Stadium.
Turkey will now have the chance to revive this sweet memory, playing against Austria at the stadium in Vienna.
Unlike this year's many fixtures after the EURO 2008, coach Fatih Terim is not going for fresh faces for tonight's friendly game. The team's main strikers Nihat Kahveci and Mevlüt Erdinç were already out and star attackers Arda Turan and Semih Şentürk were excluded from the squad due to recent injuries, but Turkey will play mainly with its regular squad in midfield and defensive areas.
Mehmet Aurelio, who has been on top form with Spanish club Real Betis recently, Middlesbrough's Tuncay Şanlı and Dortmund's up-and-coming midfielder, Nuri Şahin, are likely to start the game in midfield, while Sinan Kaloğlu, who is doing well with Germany's Bochum and enjoyed a rare call-up to the team, will probably play up front, besides Schalke 04's Halil Altıntop.
Two other fresh names in the squad are defenders Caner Erkin of CSKA Moscow and Kayserispor's Eren Güngör.
On the other hand, Austria has also lost many players for tonight's friendly. Striker Marc Janko and defender Emanuel Pogatetz both pulled out with recent injuries, while Juventus goalkeeper Alexander Manninger and Eintracht Frankfurt's midfielder Ümit Korkmaz, who has Turkish roots, have already been withdrawn from the squad.
Salzburg's Janko, who scored 25 goals in 18 domestic league matches this season, has a thigh injury, while Middlesbrough's Pogatetz has torn ligaments in his knee.
Austria coach Karel Bruckner called up Rapid Vienna forward Erwin Hoffer as replacement for Janko but did not add an extra defender to replace Pogatetz.
There are no points at stake, and some of the biggest stars are sidelined but still, Turkey will want to win this game, at least to cap a memorable year with a respectable result. Playing this game in Austria will make it even more meaningful for Terim's side.
Maradona's Argentina debut closely monitored
However, tonight's highlight will be Diego Maradona's debut as Argentina coach when his side faces Scotland in another match at Hampden Park.
There have been plenty of highs and lows, including a brush with death in 2004, since Maradona gave his scintillating performance as an 18-year-old in Argentina's 3-1 friendly win over the Scots in Feb. 1979. Whether Maradona, who lifted the World Cup in 1986, can have a positive impact as coach is the question being debated in Buenos Aires and around the world.
"Of course this is a new start. But I'm not looking at it as if I have to show things. I'm here to give my support, my experience to the national team," he said.
Tonight's game will be closely monitored by the family of football and he will want it to go better than his World Cup debut as a player, which ended with a shock defeat for the-then cup holders against Belgium in the opening game of the 1982 finals in Spain.
For the moment, and in the absence of key players Lionel Messi and Juan Roman Riquelme, Maradona just wants some of his aura to rub off on this generation, having been an inspiration behind the scenes for their Olympic gold medal three months ago.
"As long as we've got the ball and we get some respect for the jersey, I'll go away very calm," Maradona told reporters upon the team's arrival in Glasgow. "I'm not asking the lads for more, they've taken some knocks."
Scotland coach George Burley has immense respect for the stocky former number 10, having been one of the defenders facing his silky skills in the 1979 friendly.
Burley's assistant Terry Butcher is a more grudging admirer. He was also on the pitch when Maradona's infamous "Hand of God" goal helped Argentina beat England 2-1 in Mexico on their way to winning the 1986 World Cup.
Another interesting game tonight will be the Germany-England game, but despite the fierce rivalry between the teams, the injury-depleted squads may prevent the game from being a memorable one.
Wayne Rooney, Steven Gerrard, Frank Lampard, Rio Ferdinand and Joe Cole are among the England players out through injury while David Beckham's lack of recent action means he was not considered. Germany is without captain Michael Ballack, midfielder Torsten Frings, attacking full back Philipp Lahm and Jens Lehmann, their recently-retired goalkeeper.
Kripto Para Piyasaları için Bigpara