Plant and Krauss pick of Grammy bunch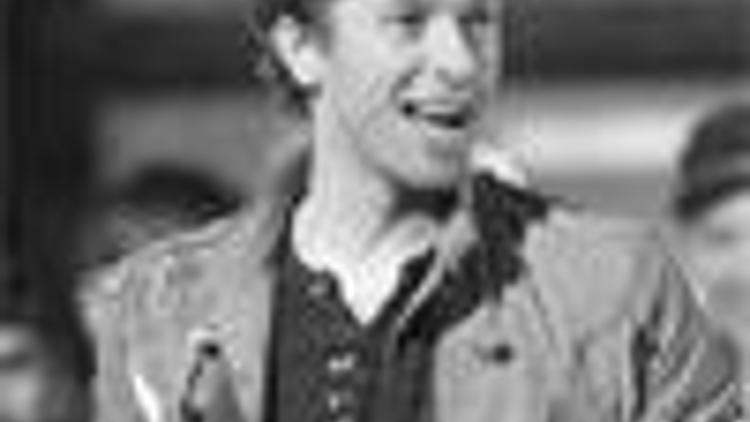 refid:10964005 ilişkili resim dosyası
LOS ANGELES - Led Zeppelin legend Robert Plant and bluegrass singer Alison Krauss dominated the Grammy awards Sunday, grabbing five prizes for their groundbreaking rock-country collaboration 'Raising Sand.' other big winners included rapper Lil Wayne, who took four awards and British supergroup Coldplay with three
The 51st annual Grammys was an all-ages affair ultimately dominated by a rock legend who took up with a younger bluegrass singer on a whim.

The unlikely pairing of Robert Plant and Alison Krauss that produced the hit album "Raising Sand," won five Grammys on Sunday including album of the year. The former Led Zeppelin front man, previously best known for his high-decibel shrieking and rock star theatrics, found more docile Nashville melodies with Krauss.

"Raising Sand," produced by T. Bone Burnett, bested fellow nominees Lil Wayne, Ne-Yo, Coldplay and Radiohead. Their "Please Read the Letter" also won record of the year.

Live broadcast
In a performance-stuffed live broadcast, the subject of age Ğ and intertwining musical realms Ğ was always close at hand.

Taylor Swift, 19, and Miley Cyrus, 16, sang a duet of Swift's "Fifteen." The 66-year-old Paul McCartney, with 40-year-old Dave Grohl on drums, sang the Beatles classic about a girl who "was just 17."

Stevie Wonder performed with the Jonas Brothers, and even a nine-month pregnant woman Ğ the rapper M.I.A. Ğ hobbled out on stage to join the dapperly dressed Jay-Z, Kanye West, Lil Wayne and T.I. in a "rap summit" performance of T.I.'s "Swagger Like Us."

Lil Wayne, who led the field with eight nominations, won three awards, including best rap album for "Tha Carter III," for which he literally hopped on stage to receive. Coldplay also took home three awards, including best rock album for "Viva La Vida Or Death And All His Friends."

The Grammys this year offered a telecast without a host and Ğ unexpectedly Ğ without several performers.

Rihanna and Chris Brown, both nominated for awards and scheduled to perform, were absent after the Los Angeles Police Department announced that Brown Ğ who is dating Rihanna Ğ was the subject of an investigation into a felony domestic violence battery from Saturday night.

One of the night's superior performances reflected the comments of producer T. Bone Burnett, who explained while accepting the award for record of the year: "Good things happen out of nowhere."

"Things happen; you have to be nimble," said Recording Academy president Neil Portnow after the show, explaining he didn't know of the absences until Sunday afternoon. "We think to ourselves, we've got the greatest musical talent in the world in the same place at the same time."

The broadcast from Los Angeles sometimes had the appearance of a bubble. No mention was made of economic troubles across the country or of the music industry's continuing declining sales. Though download sales are rising, album sales dropped 14 percent last year.

Such awards, though, never make it into the televised broadcast, which this year included awards for only a dozen of the 110 categories. Among the unseen awards was a posthumous award for George Carlin in the comedy album category for "It's Bad for Ya," a recording of his final comedy special. Al Gore added to his extensive awards tally with a prize for the audio book of his "An Inconvenient Truth."

Instead of focusing on the awards, though, the Recording Academy has increasingly turned the Grammys into an all-star revue, packing the three-and-a-half-hour long show with performance after performance, duet after duet.

Among them: U2 kicking things off with their new single "Get on Your Boots"; Lil Wayne and Allen Toussaint paying tribute to New Orleans; Neil Diamond singing "Sweet Caroline;" Radiohead performing with the University of Southern California marching band; Jay-Z joining Coldplay; a tribute to the Four Tops; and Jennifer Hudson singing a rousing, touching version of "You Pulled Me Through" that left her teary-eyed.

Hudson on stage
Following the Super Bowl, it was Hudson's second major performance since her mother, brother and nephew were killed in October. Hudson's self-titled disc also won best R&B album.

"I first would like to thank God, who has brought me through," she said accepting the award. "I would like to thank my family in heaven and those who are with me today."

The Grammys also sought to tap into online traffic with official updates on Twitter and Facebook throughout the broadcast.

There were some oddities in the show, too: Gwyneth Paltrow introduced not the giant British rock group that her husband, Chris Martin, plays in (Coldplay), but the giant British rock band they have often been compared to (Radiohead).

Katy Perry, again singing her hit "I Kissed a Girl," performed a choreographed routine while simultaneously appearing to disdain choreographed routines.
Haber Yorumlarını Göster
Haber Yorumlarını Gizle