Hurriyet DN Online with wires
Israel apologizes for UN refugee agency strike, as army advances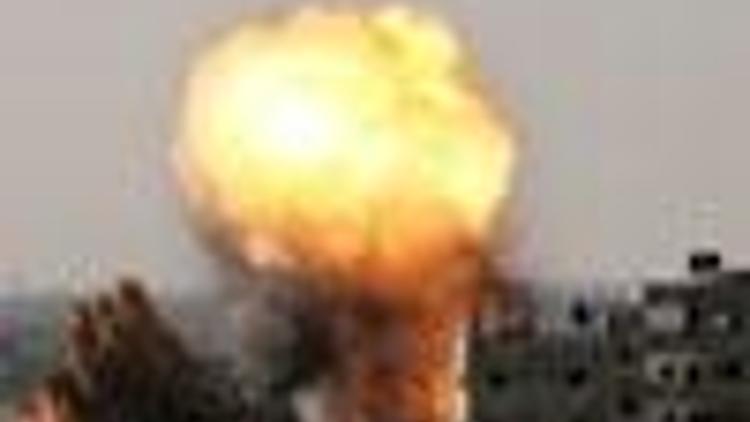 refid:10780779 ilişkili resim dosyası
Israeli defense minister apologized to U.N. Secretary-General Ban Ki-moon on Thursday after Israeli forces shelled the main U.N. aid compound in the city of Gaza, as te troops moved further into Gaza City amid ongoing truce talks. (UPDATED)
Photo Ed: World protests Israel
The United Nations Relief and Works Agency (UNRWA) said its compound, where up to 700 Palestinians were being sheltered, was hit twice by fire and three staff members were injured.
Ban, visiting Israel as part of a diplomatic drive for a ceasefire in Gaza, said he had protested strongly to Israeli Defense Minister Ehud Barak, who apologized and told him it was a "grave mistake".
"I conveyed my strong protest and outrage to the defense minister and the foreign minister and demanded a full explanation," Ban was quoted by Reuters as saying at a news conference in Israel.

"The defense minister said to me it was a grave mistake and he took it very seriously. He assured me that extra attention will be paid to U.N. facilities and staff and this will not be repeated," he said.
The attacks occurred as Israeli ground troops advanced into a crowded residential area on the outskirts of the city. 
The U.N. agency for Palestinian refugees suspended its operations inside Gaza on Thursday after Israel hit its compound. 
Chris Gunness, a Jerusalem-based spokesman for the agency, told AP hundreds of people were taking refuge inside the compound when the building was hit by what was believed to be three white phosphorous shells.
MEDIA OFFICES HIT
Israeli troops also hit another building which hosted media organization's bureaus. Two cameramen were wounded on Thursday when an Israeli strike hit a building in Gaza City housing several international and Arab media outlets, witnesses told the AP.
Live television footage showed smoke coming from the roof of the building, which towers over the generally low-rise city center.
Reuters said its office was also in the building. Reuters journalists on the spot said they had not been aware of any presence of armed men in the building beforehand.
An Israeli army spokesman had spoken with Reuters staff in Jerusalem shortly before the explosion to check the location of the Reuters bureau in Gaza. Reuters had provided the coordinates of its office to the army at the start of the war and was assured on several occasions that it was not a target.
An army spokeswoman said after the blast that she was checking. She said troops were engaged with Hamas guerrillas in exchanges of fire in the city and said fighters had taken over a media office in the same area late on Wednesday.
A hospital in Gaza City with 500 people inside caught fire on Thursday after an Israeli strike, Al Jazeera also reported. It was not immediately clear whether there were any injuries, AFP reported.
The strike occurred near the Al-Quds Hospital in the southwestern neighbourhood of Tal Al-Hawa, where hundreds of people had taken shelter from advancing Israeli tanks in the early morning hours.
ISRAEL THRUST DEEPER
Israeli troops backed by helicopter gunships, tanks and heavy guns thrust deeper into the city than ever before to seek Hamas fighters.
Since Israel unleashed its Operation Cast Lead on December 27, more than 1,000 people have been killed and around 5,000 wounded, according to news agencies.
Battles raged in the northern town of Jabaliya and Israeli ground troops backed by dozens of tanks pushed at least 1 kilometer into the southern town of Khan Yunis, Qatar-based Al Jazeera reported.
The operation is the deepest thrust into the city of a 20-day Israeli offensive in Gaza. Israel appears to be stepping up pressure on Gaza's Hamas rulers as international mediators try to work out a cease-fire.
So far Israel has balked at launching all-out urban warfare in Gaza City, where Hamas militants are more familiar with the lay of the land and Israeli casualties would be liable to spiral.
Thousands of terrified residents were fleeing their homes in their pajamas, some wheeling elderly parents in wheelchairs, the Associated Press reported. Others were stopping journalists' armored cars or ambulances pleading for someone to take them to safety.
Columns of thick black smoke rose into the sky above several neighborhoods in Gaza City and pitched battles were reported in the northern town of Jabaliya.
On the Israeli side, 10 soldiers and three civilians have died as a result of combat or rocket fire.
TRUCE TALKS AT NEW STAGE
Egyptian mediation for a truce between Israel and the Islamist movement Hamas in Gaza moved into a new stage on Thursday with the arrival in Cairo of Israeli Defense Ministry official Amos Gilad. U.N. Secretary General Ban Ki-moon also arrived in Israel continuing a regional tour.
Gilad, Egypt's main contact on the Israeli side in the mostly secret talks, was to be briefed by Egypt's pointman for Israeli-Palestinian affairs, intelligence chief Omar Suleiman, the day after Hamas presented its "vision" for a ceasefire, limiting its acceptance to the plans "broad outlines."
"This crucial meeting should last two or three hours, and Gilad should leave this afternoon to inform the Israeli government for them to take a decision," a diplomatic source close to the negotiations told AFP.
Ban was to meet with Prime Minister Ehud Olmert, President Shimon Peres and Foreign Minister Tzipi Livni in Israel during the day.
He arrived in Israel after holding talks with Egyptian President Hosni Mubarak in Cairo on Wednesday at the start of a regional tour that will also take him to Jordan, Turkey, Syria, Lebanon and Kuwait, where he was to attend an Arab League summit next Monday.
He was to meet with Palestinian president Mahmud Abbas in the West Bank city of Ramallah on Friday.