Hurriyet English with wires
Iran says it has put first dummy satellite in orbit, sparks U.S. concern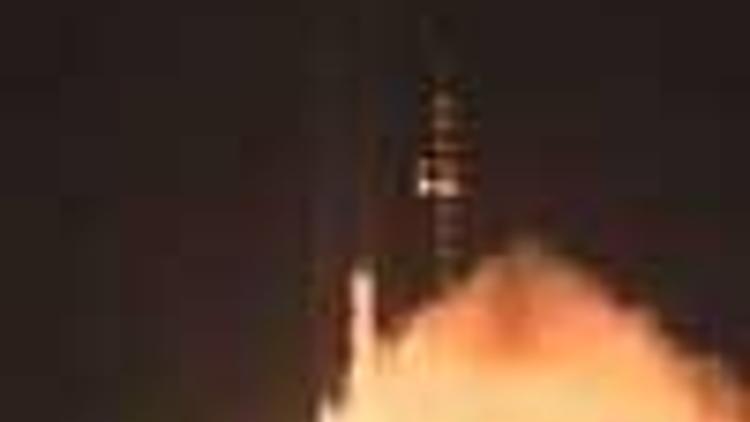 refid:9684306 ilişkili resim dosyası
Iran said it had put a dummy satellite into orbit on a home-grown rocket for the first time on Sunday, triggering fresh concern in Washington that the technology could be diverted to ballistic missiles.
The launch is likely to further exacerbate tensions with the West over its nuclear drive, which Iran's arch-foe Washington and its allies claim is a cover for atomic weapons ambitions.
"The Safir (Ambassador) satellite carrier was launched today and for the first time we successfully launched a dummy satellite into orbit," Reuters quoted Reza Taghizadeh, head of the Iranian Aerospace Organization, as telling state television.
"We have paved the way for placing a satellite in space in future," state television said, showing images of the pre-dawn rocket launch which was attended by President Mahmoud Ahmadinejad.
Western governments, already concerned over Iran's nuclear activities, have warned that the technology used in the Islamic republics space program could be diverted to military use, claims denied by Tehran.
"The Iranian development and testing of rockets is troubling and raises further questions about their intentions," White House spokesman Gordon Johndroe said.
"This action and dual use possibilities for their ballistic missile program are inconsistent with their U.N. Security Council obligations."
A top Iranian official told AFP that state media reports that the country's first domestically-built satellite, called Omid or Hope, had been launched were not correct.
A defense ministry statement carried by the official news agency IRNA had said the rocket, "built by Iranian experts" was launched with Omid. But the official, speaking on condition of anonymity, said the media was mistaken.
Iran's Arabic-language state television broadcast footage of the rocket heading into space and graphics showing a satellite separating from a rocket.
Sunday's development comes amid an international standoff over Tehran's long-standing refusal to suspend uranium enrichment, a process which makes nuclear fuel but also the core of an atomic bomb.
Israel and its staunch ally the United States have never ruled out a military strike against Iran's nuclear sites, although currently Washington has said it is pursuing the diplomatic option.
FIGHTER JETS
On Sunday, Iran's air force commander said its fighter jets have been upgraded to allow them to fly 3,000 kilometers (1,860 miles) without refueling which would put Israel easily within reach.
"We do not wish to attack another country... but we will defend ourselves should we be attacked," Brigadier General Ahmad Mighani added, without however mentioning Israel.
Ahmadinejad has made Iran's scientific development one of the main themes of his presidency, asserting that the country has reached a peak of progress despite sanctions and no longer needs to depend on foreign states for help.
"This satellite, the rocket and the launch station are entirely Iranian-built, achieved by particularly talented scientists and technicians," Ahmadinejad told reporters in Turkey last week, announcing that the satellite would be launched soon, IRNA said.
In February, Iran triggered international concern when it said it had sent a probe into space on the back of a rocket to prepare for a satellite launch, and announced the opening of its space station in a remote western desert.
Iran is risking a possible fourth round of U.N. sanctions after it failed to give a clear response to an incentives package offered by six major world powers in return for halting uranium enrichment.
Iran, the worlds fourth largest oil producer, insists its nuclear work is aimed purely at generating electricity.
In February, the deputy head of Iran's space organization said the Omid satellite would be put into orbit at an altitude of 650 kilometers (400 miles) above the earth, passing over Iran six times every 24 hours.
Iran has pursued a space program for several years, and in October 2005 a Russian-made Iranian satellite named Sina-1 was put into orbit by a Russian rocket.
Sundays launch came on the birth anniversary of eighth century Imam Mahdi, who vanished as a boy and who Shiites believe will return one day as the messiah.
Kripto Para Piyasaları için Bigpara