GOOD MORNING--TURKEY PRESS SCAN ON JUNE 9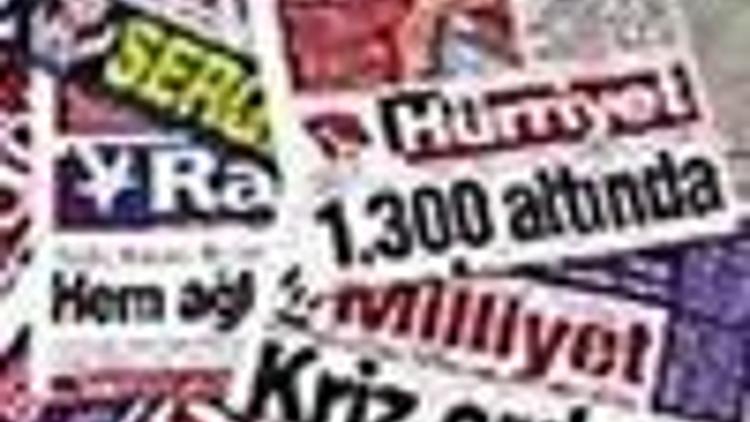 refid:9131782 ilişkili resim dosyası
These are some of the major headlines and their summaries in the Turkish press on June 9, 2008. Hurriyet English does not verify these stories and does not vouch for their accuracy.
HURRIYET
--RESIDENCE AGREEMENT
Parliament Speaker Koksal Toptan met with Prime Minister Recep Tayyip Erdogan at the Turkish Parliament headquarters on Friday evening. Speaking at the meeting, Toptan said, "It is our task to ease the tension in the country. The biggest contribution will be from you."
--ARAB CAPITAL HOLDS SUMMIT FOR INVESTMENT IN TURKEY
Arabian capital again started to show interest in Turkey during the period of Justice and Development Party (AKP). Investment opportunities in Turkey will be assessed at the Turkish-Arabian Economy Forum that will be held in Istanbul for the third time.
Three prime ministers and four ministers will attend the forum to discuss investment opportunities between the countries.
MILLIYET
11TH ACCIDENTAL DEATH IN TUZLA
Another worker has died after being trapped under a valve of half a ton in the shipyard in Tuzla, bringing the death toll to 11 since the beginning of the year. Cem Dinc, chairman of the Shipyard Workers' Labor Union, said that workers died in the shipyard since authorities failed to take the necessary measures.
--RULING AKP NOT POSITIVE ABOUT SENATE SYSTEM
The ruling AKP has not been positive about Parliament Speaker Koksal Toptan's proposal about a bicameral system. Nihat Ergun, deputy chairman of the ruling AKP, said, "This system was tried in Turkey before. It did not work properly."
SABAH
--TUZLA SHIPYARDS INSATIABLE TO LIFE
A worker died when an iron damper fell on him at Selahattin Arslan shipyard in Tuzla (shipyards) district in Istanbul. Ihsan Turhan, 35, was taken to Tuzla State Hospital, but died from his injuries. The number of workers who died in Tuzla shipyards reached 97.
--COST OF KYOTO IS HIGH
State Planning Organization (DPT) calculated the cost of the Kyoto Protocol, which the government decided to sign, as $40-148 billion.
VATAN
---NO SUPPORT FROM RULING AKP TO "SENATE" FORMULA
The ruling AKP desires to exert efforts to put an end to the conflict between the jurisdiction and legislation through Parliament Speaker Koksal Toptan.
Republican People's Party (CHP) chairperson Deniz Baykal would not attend the meeting held by Toptan, claiming that "the parliament speaker was acting as if he was the spokesperson for ruling AKP," sources said. Baykal is against Toptan's "senate" idea as well.
AKP members also say that "Turkey has previously tried the 'senate' formula, but it left that alternative as it did not yield positive results."
--"WHOEVER MR. ERDOGAN POINTS TO WILL BE LEADER"
Upon a question on whether the ruling AKP would be closed down or not, Ankara Mayor Melih Gokcek said, "I hope it will not. But if it is closed down, I believe nothing will be any different in the political sense."
"Even though Premier Recep Tayyip Erdogan is banned (from politics), he will be an independent candidate and he will become the prime minister again," Gokcek said. "Or, Mr. Erdogan may determine the leader."
CUMHURIYET
--CHP ACCUSSES TOPTAN OF BEING BIASED
Turkey's main opposition party has reacted to Parliament Speaker Koksal Toptan who claimed that the Constitutional Court overstepped its authority by invalidating the amendment allowing headscarf at universities, and proposed a bicameral system in Turkey to ease the burden of the court. The Republican People's Party (CHP) accused Toptan of being biased.
--RULING AKP CONFUSED
The ruling AKP could not decide about the proposal of Parliament Speaker Koksal Toptan regarding a new bicameral system. The AKP wants a constitutional amendment restricting the authority of the Constitutional Court, but it is concerned about failing to gain the support of the other political parties.
RADIKAL
--AGAIN TUZLA MURDER
Dock worker, Ihsan Turhan, father of two, died after he was trapped under an iron damper that weighed more than half ton, at a Tuzla Shipyard. The number of workers who accidentally died in Tuzla shipyards reached 98.
--ONE MILLION STUDENTSATTEND LAST OKS
Secondary Schools Exam (OKS) were conducted yesterday for the last time. Nearly one million students entered the exam in which students were asked 100 questions in 120 minutes. Results will be announced on July 11.
YENI SAFAK
--"IMAGINATION DOES NOT HELP JUSTICE"
Jurists have reacted to the Constitutional Court which invalidated an amendment allowing the headscarf at universities on some imaginary grounds. They said that rulings could not be based on cyber scenarios.
--TUZLA LIKE A SERIAL KILLER
Indifference of employers and improvidence of workers has caused the death of another dock worker in a Tuzla shipyard. Ihsan Turhan lost his life after being trapped under a half ton valve. He was the 97th worker to die in the shipyard since 1992.
Kripto Para Piyasaları için Bigpara