GOOD MORNING--TURKEY PRESS SCAN ON JULY 11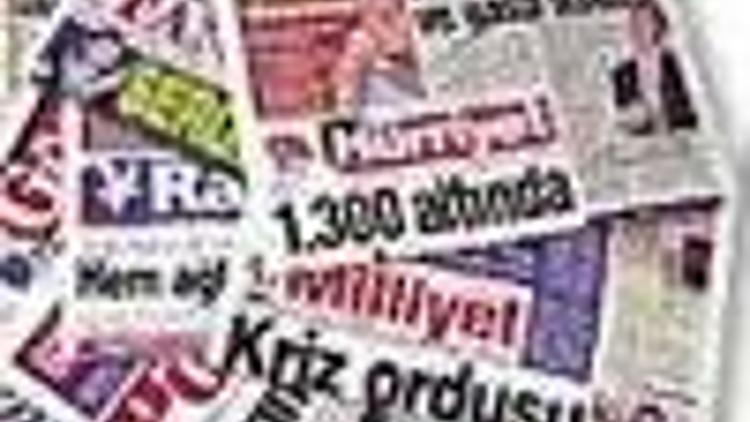 refid:12051554 ilişkili resim dosyası
These are some of the major headlines and their summaries in the Turkish press on July 11, 2009. Hurriyet Daily News does not verify these stories and does not vouch for their accuracy.
HURRIYET
-- IT IS ALMOST A GENOCIDE
Turkish Prime Minister Recep Tayyip Erdogan, who attended G-8 summit in Italy, described the incidents occurring in east Turkestan as "almost a genocide". "I have expressed my views to my colleagues at the meeting. Any word, apart from genocide, can not express an incident like this where hundreds of people were killed and more than 1,000 people were injured," Erdogan said.
-- REASON THAT SUITS TO TURKEY
Reasoned verdict of the case in which Republican People's Party (CHP) MP Canan Aritman was sentenced to pay one Turkish lira compensation as she said mother of President Abdullah Gul was of Armenian origin, was made public. The verdict said mother of President Gul was not of Armenian origin, noting that differences in the society was cultural richness. The reasoned verdict also said this would not change even if mother of  President Gul was of Armenian origin.
MILLIYET
-- TRENCH BY DAMS AGAINST TERRORIST PKK
Eleven dams being built alongside the Iraqi border in south-eastern provinces of Hakkari and Sirnak have become a nightmare for terrorist organization PKK. The dams will leave behind points used by PKK terrorists under water and make it difficult for the terrorists to enter Turkey.
-- ERDOGAN ACCUSES CHINA: INCIDENTS ARE ALMOST A GENOCIDE
Turkish Prime Minister Recep Tayyip Erdogan harshly criticized China on Friday in regard to the incidents taking place in Xinjiang Uighur Autonomous Region. Erdogan said that the killing of hundreds of people and injuring more than 1,000 people can not be described with any word but with "genocide".
SABAH
-- MOSUL? THANK YOU BUT NO!
The International Crisis Group, earlier this week, said that the residents of Mosul would want to join Turkey as a province soon. Referring to such remarks, the Spokesman of the Turkish Ministry of Foreign Affairs (MFA), Burak Ozugergin, said that it is impossible to agree with such remarks. "Turkey's borders are very clear," Ozugergin also said.
-- PROTESTS AGAINST CHINA
Thousands of Turks in every corner of Turkey protested China on Friday over the incidents taking place in Xinjiang Uighur Autonomous Region. Prayers were made for those killed and injured in Xinjiang in Turkish mosques. In Istanbul, protestors burned Chinese flags. In western province of Mugla, business owners burned Chinese goods as a means to protest China.
VATAN
-- THE VIOLENCE IS ALMOST A GENOCIDE
Commenting on the massacre in Xinjiang, Prime Minister Tayyip Erdogan spoke harshly and said, this incident in China now is almost a massacre. No other word but this can express an incident in which hundreds of people were killed and more than a thousand people were injured." Erdogan, who attended G-8 summit in Italy, told a news conference after his arrival that, "I have already used the word 'violence' in Turkey. We respect China's territorial integrity but we demand legal rights of our kinsmen there to be protected. This is almost a massacre."
-- TRAIN WILL ALSO PASS FROM THE THIRD BRIDGE
Director General of Highways Cahit Turan said a railway will also be built on the third bridge which is planned to be constructed over Istanbul Strait. Turhan said that the third bridge would be 1,300 meters and the highway to be 300 kilometers and will be completed in five years. The project, which will cost 4 billion USD, will be put to tender in September, the latest through build-operate-transfer model.
CUMHURIYET
-- KOC HOLDING RANKS 172TH ON WORLD'S BIGGEST CORPORATIONS LIST
Turkish conglomerate Koc Holding ranked the 172th on an annual list of world's 500 largest corporations released by international business magazine Fortune Global. The Turkish holding moved 14 places up on the list of Fortune Global, with a 44.2 billion USD turnover, leaving behind world giants such as Canon, Walt Disney, Lufthansa, Bridgestone, Oracle, Coca-Cola, Goodyear, Philip Morris, Dupont, Apple, Philips and PepsiCo.
-- VISA CRISIS WITH CHINA LOOMS
After Turkish Premier Tayyip Erdogan made remarks that Turkey will provide a visa to the leader of the World Uighur Congress, Rebiya Kadeer, diplomatic tension erupted between Ankara and Beijing. Turkey earlier had assured China that it would not accept any individual involved in separatist activities against China.
RADIKAL
-- TO IMF: LET US AGREE IN ONE MONTH
Prime Minister Tayyip Erdogan gave signals that deal with IMF was close. Giving information to journalists about his meeting with the IMF President, Erdogan said "I have told the IMF president that Turkey would be pleased to conclude talks rapidly on the general framework as well as financial discipline and structural reforms in this month or the next. We do not want to push it further as we will host an international IMF meeting on September 28 in Istanbul."
-- SUMMER STARS OF ISTANBUL
Juliette Lewis will take the stage in Rock'n Coke on July 18 after Katy Perry who gave a concert in True Blue on Thursday evening. Speaking to daily Radikal, Lewis said she was performing her feelings in honesty. "Music permits creativeness and this creativeness ensures me to grow up my musical identity."
YENI SAFAK
-- VALVE OF EU IS IN TURKEY
The parties will sign Nabucco Project in Ankara on Monday which is described as the "project of the century" which will enable 4.5 billion euro investment in Turkey. Turkey will have the right to say in energy and the project will provide job opportunities for 15,000 people. Nabucco agreement envisaging shipping of natural gas of Asia and the Middle East to Europe via Turkey will be signed on July 13. Foreign ministry sources said natural gas of the Caucasus, Caspian and the Middle East would for the first time be shipped to Europe. The sources said construction of the pipeline would start in 2010.
-- WE WILL NOT REMAIN AS SPECTATOR
Prime Minister Tayyip Erdogan continued to react strongly to the massacre in Urumchi. Erdogan said Turkey could not remain as spectator to the violence. Erdogan said, "I used the word violence and I am backing it. No other word would express this incident in which hundreds of people were killed and more than a thousand people were injured."
Kripto Para Piyasaları için Bigpara