GOOD MORNING--TURKEY PRESS SCAN ON AUGUST 7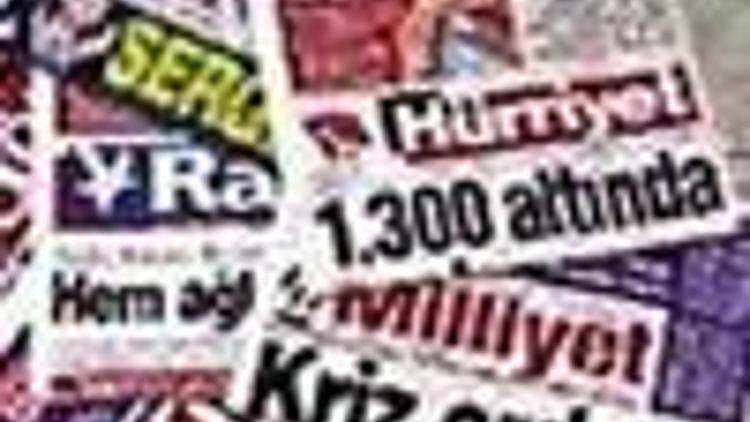 refid:9603050 ilişkili resim dosyası
These are some of the major headlines and their summaries in the Turkish press on August 7, 2008. Hurriyet English does not verify these stories and does not vouch for their accuracy.
HURRIYET
--FIRST VISIT BY A PRESIDENT AFTER 15 YEARS
President Abdullah Gul and his family are enjoying the blue waters of the Aegean and the Mediterranean aboard a private yacht that anchored at Gocek, made famous by the late president, Turgut Ozal. Gul has become the first president after Ozal to spend his holiday at Gocek with his family.
--RESIGNATIONS HIT UNIVERSITY
President Abdullah Gul appointed university rectors; however three universities were hit by resignations. Sixteen professors from Istanbul Technical University, Ankara's Gazi University and Izmir's Dokuz Eylul University resigned to protest Gul whom they accused of favoring supporters of the ruling Justice and Development Party (AKP).

MILLIYET
--SMOKE SCREEN
It was revealed that the documents, on which the indictment of Ergenekon probe was based, were originally seized in the homes of Tuncay Guney, a former journalist, and Umit Oguztan, a suspect, in 2001. But the investigation was closed in 2002. Two files titled "Ergenekon" and "Assassinations" were returned to Oguztan by the court. All the other documents have been held by the State for years. Erol Cakir, who was the then governor of Istanbul, refrained from answering questions.
--PKK'S ROCKET-ATTACK KILLS A TURKISH TROOP
A police officer was killed and two others were injured when PKK terrorists attacked on the local security department in Malazgirt town of the eastern province of Mus.
--RESIGNATIONS AT UNIVERSITIES
A number of academicians have resigned after appointment of 21 new rectors by President Abdullah Gul. Twelve professors at Istanbul Technical University (ITU) resigned to protest the appointments. Prof. Dr. Sedef Gidener of the Dokuz Eylul University also resigned. Although she was chosen by her colleagues as the number one candidate and proposed by the Higher Education Board (YOK), she was not appointed by President Gul. She resigned as head doctor of the School of Medicine.

SABAH
--NAME OF SEMIH WRITTEN IN FENERBAHCE'S HISTORY
Fenerbahce soccer team of Turkey scored five goals against MTK Budapest of Hungary in the second leg of the second qualifying round of the European Champions League in Budapest. Semih Senturk of Fenerbahce scored four of the five goals. Semih became the first Turkish footballer who scored four goals in a European Cup match.
--TARGET IS TO GET GOLD MEDAL
Olympic Games will begin in Beijing on Friday. Two women athletes of the Turkish National Athletics team, Nevin Yanit and Merve Aydin, dressed in traditional Chinese national costumes, vowed to bring medals home to Turkey.
VATAN
--SAME CRISIS AGAIN
President Abdullah Gul appointed rectors to 21 universities. The appointment of the rectors caused confusion at universities. This time, it was alleged that President Abdullah Gul's appointment decisions were based on a "candidates' closeness to the ruling AKP." Former President Ahmet Necdet Sezer had been criticized as he approved names that had same secularism view as him.
The candidates who got the highest number of votes were not appointed rectors at nine universities. Twenty-seven professors and three assistant professors at Istanbul Technical University (ITU), Gazi University, 9 Eylul University and 19 Mayis universities resigned.
--GOCEK HOLIDAY OF GUL COUPLE
President Abdullah Gul is spending his holiday with his family on a private yacht in Gocek Bay in the Aegean province of Mugla.
Zodiac boats and jet-skiis are patrolling the bay to protect President Gul and his family.

CUMHURIYET
--UNIVERSITY RISES
Academicians, who reacted to rectors appointed by President Abdullah Gul, have resigned from their schools.
Several professors from Istanbul Technical University, Gazi University, Akdeniz University and Dokuz Eylul University, including deans, head doctors and institute directors, submitted their resignations. Several others from different universities are expected to resign too.
--SEMIH ELATES
Fenerbahce knocked MTK Budapest out of European Champions League after a 0-5 win in the second leg of the 2nd qualifying round. Semih Senturk was the man of the match after scoring 4 goals. Fenerbahce will face Serbia's Partizan in the third round.

RADIKAL
--KEEPING RECORDS OF PEOPLE WAS ONE OF SPECIAL FORCES' ROUTINES
Documents about a number of people have been seized in house of former major Fikret Emek, who was detained under the Ergenekon probe. Emek claimed that the documents were prepared by intelligence units under official assignment. Hundreds of people were described as "a member of the PKK", "member of the DHKP-C", "extreme leftist" or members of some religious sects.
In the documents, the names of 164 companies were associated with the PKK terrorist organization.
--NUCLEAR REACTION
A group of members from the international environmental organization, Greenpeace have protested Sabanci Holding for participating in a tender for Turkey's nuclear power plant. Greenpeace activists entered the garden of the Sabanci Towers in Istanbul and released a giant balloon carrying a huge banner which read, "Go solar".

YENI SAFAK
--TURKISH PHYSICIAN AT CERN DIES
Turkish physician Prof. Engin Isiksal, working at CERN Research Center in Switzerland, died of heart attack in his home. The death of the 49-year-old scientist, who did not have heart problems, shook the scientific world.
--CHP ARROW AT BUYUKANIT
The Republican People's Party (CHP) is insistent on its accusations against the Turkish Armed Forces (TSK) despite strong statements from the General Staff.
CHP's group chairman Kemal Kilicdaroglu criticized the decisions made in Supreme Military Council that there were no discharges.
Kilicdaroglu said, "There may be four assassination attempts against Gen. Yasar Buyukanit. Will the other chiefs of General Staff get the same armored vehicle that has been bought for Buyukanit?"
Kripto Para Piyasaları için Bigpara