GOOD MORNING--TURKEY PRESS SCAN ON APR 18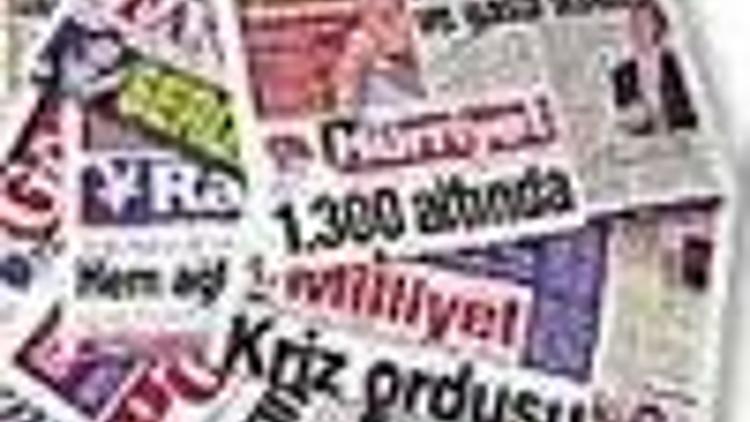 refid:11460405 ilişkili resim dosyası
These are some of the major headlines and their summaries in the Turkish press on April 18, 2009. Hurriyet Daily News Online does not verify these stories and does not vouch for their accuracy.
HURRIYET
-- EIGHT ARRESTED UNDER ERGENEKON PROBE
The court decided to arrest eight of 39 people who were detained under the 12th wave of the Ergenekon probe. Professor Mehmet Haberal, rector of the Baskent University, is among the arrestees. He was taken to a hospital in Istanbul after feeling sick. There are also five other professors among the arrestees including three former rectors.
-- TURKISH SHIP PUNISHED AFTER RESCUING MIGRANTS
A Turkish ship which saved 145 illegal migrants off Malta was stranded in Italian port of Lampedusa after Malta and Italy rejected to accept migrants. Baris Erdogdu, president of the executive board of the Hedef Maritime, the owner of the ship, said, "Italian war vessels do not allow our ship to leave the port. They also refused to supply potable water and foodstuff to crew members who shared their food with migrants. We informed the UN High Commissioner for Refugees on the situation. They sent aid by helicopters and airlifted two migrants who were about to die."
MILLIYET
-- SHOPPING MALL WORTH $160 MLN GETS INAUGURATED IN GAZIANTEP
A shopping mall worth 160 million dollars was inaugurated in southern province of Gaziantep on Friday. The new mall was constructed by Sanko Holding and Ronesans Real Estate Investments Company. The mall will provide jobs to around 2,500 people.
-- OZAL REMEMBERED
Turkey's late President Turgut Ozal was remembered on the 16th anniversary of his demise in Istanbul on Friday. Speaking at Ozal's cemetery, Mrs. Semra Ozal said that "the Turkish people miss Turgut more and more every passing day".
SABAH
-- OBAMA NOT TO USE TERM "GENOCIDE" ON APRIL 24
Turkish Ministry of Foreign Affairs (MFA) said that U.S. President Barack Obama will not use the word "genocide" while referring to the incidents of 1915 on April 24. "We believe that President Obama would not want to lose Turkey. Having said that we do not expect anything negative to happen," said the Turkish MFA.
NEW ECONOMIC PACKAGE FOR UNEMPLOYMENT
Turkish State Minister and Deputy Prime Minister Nazim Ekren said that the government will reveal a new economic package to combat unemployment. "We may make more flexible procedures so that the unemployed Turks make use of the unemployment funds," Ekren said.
VATAN
-- METRIS UNIVERSITY
Number of rectors and professors who were arrested and sent to the Metris Prison under the Ergenekon probe, exceeded number of academicians in some newly established universities after recent wave of arrests. The court arrested eight of 39 people who were detained under the probe. Seven of the arrestees are academicians such as Professor Mehmet Haberal, rector of the Baskent University. Haberal was taken to hospital shortly after being sent to the Metris Prison. They are accused of attempting to overthrow the government and being members of an illegal organization. If convicted, they could face imprisonment terms ranging from 7.5 years to lifetime.
-- U.S. AMBASSADOR SAYS THEY DISCUSS NEW STEPS AGAINST PKK
U.S. Ambassador to Turkey James Jeffrey chatted online with Turkish and American people and responded questions on the mutual relations. "The Turkish military operations have been very successful, but we are constantly in contact with the Turkish authorities on what further steps we can take with the authorities in Iraq and in support of the Turkish military to ensure a secure Turkey," Jeffrey said. Asked about relations between Turkey and Armenia, Jeffrey said, "President Obama visited Turkey and clearly stated his support for a constructive solution between Turkey and Armenia. At this moment, our focus is on how, moving forward, the U.S. can help Armenia and Turkey work together to develop a common future of peace, security, and prosperity and to come to terms with their shared past. And we are encouraged by recent Turkish and Armenian efforts in this area."
CUMHURIYET
-- PROFESSORS ARRESTED
Professor Ferit Bernay, Professor Mustafa Yurtkuran, Professor Fatih Hilmioglu and Professor Erol Manisali were arrested on charges of attempting to overthrow the government while Professor Ayse Yuksel, Hamdi Gokhan Ecevit and Omer Okyaltirik were sent to prison for allegedly being members of an illegal organization. Meanwhile, Professor Mehmet Haberal, rector of the Baskent University who was also arrested, was taken to hospital after feeling sick.
-- JUDICIARY'S REACTION
Jurists reacted harshly to political interventions in judiciary, irregularities in the Ergenekon probe, tapping of telephones of jurists and the recent investigation against the Association of Judges and Prosecutors (YARSAV) Chairman Omer Faruk Eminagaoglu.
RADIKAL
-- SECOND TARGET MISSED AT NATO: NO PROMISE MADE ON ROJ TV
In approving the appointment of the Danish Prime Minister Lars Rasmussen as NATO's new Secretary General, Turkey was assured that Rasmussen would apologize for caricatures that insulted the Holy Prophet Muhammad and Muslims. Turkey was also assured that Roj TV, media organ of the terrorist organization PKK, would be shut down in Denmark. While Rasmussen never apologized in public on the caricatures, the Roj TV was not closed. In fact, Danish Ambassador Vahr stressed that "Roj TV has to abide by the laws of Denmark. As long as it abides by the laws, the Danish government will not cancel the license of Roj TV".
-- WE MUST FIND A SOLUTION TO UNEMPLOYMENT, SABANCI
Turkish businesswoman Guler Sabanci said that the number one problem in Turkey is unemployment. One person out of every four, within the ages of 15-24, is unemployed. "If we want to become a key country, we must find a solution to the tragedy of unemployment".
Kripto Para Piyasaları için Bigpara