Hurriyet DN Online with wires
EU tells Israel to respect int'l law, UN fails to agree on ceasefire call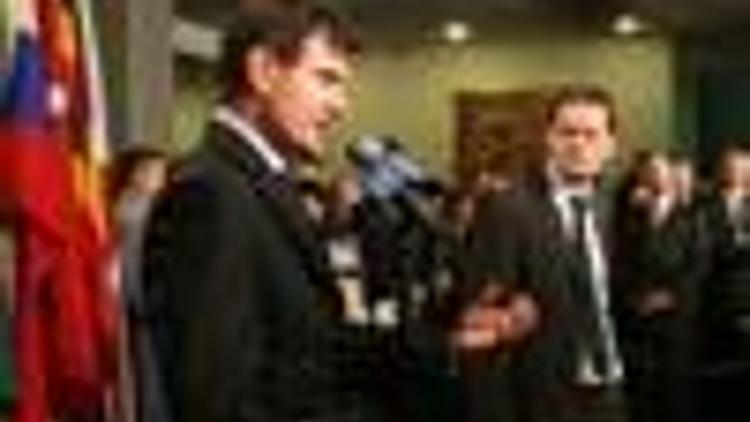 refid:10695912 ilişkili resim dosyası
The European Commission on Sunday called on Israel to respect international law and allow access to people "suffering and dying" in Israeli attacks in the Gaza Strip. The U.N. Security Council has failed to agree on a statement calling for an immediate ceasefire in the Gaza Strip. (UPDATED)
The commission, the European Unions executive arm, announced an extra three million euros (4.2 million dollars) of emergency aid in the Gaza Strip, and urged Israel to allow a "humanitarian space" for delivery of vital relief.
"One and a half million people are crammed into an area that is just over one percent the size of Belgium. They rely on supplies from outside for their survival and, with every day that passes, their situation becomes more desperate, EU Humanitarian Aid Commissioner Louis Michel said in a statement.
The obligation to respect the principals of international humanitarian law "is universal and attacks from either side that kill or injure civilians indiscriminately are unacceptable," he added.
Israeli troops pushed deeper into Gaza and clashed in fierce battles with Hamas fighters on Sunday as Israel raised the stakes in its deadly offensive on the Islamists overcrowded stronghold.
"Blocking access to people who are suffering and dying is also a breach of humanitarian law. I call on the Israeli authorities to respect their international obligations and ensure a humanitarian space for the delivery of vital relief," said Michel.
The new EU aid will be deployed "as rapidly as possible" to meet the basic needs of people affected by the Israeli airstrikes and by continuing access restrictions.
The European Union is the biggest aid donor to the Palestinians.
The latest three million euros will be focused on food, emergency shelter repairs and further medical support, all areas identified as priorities by the UN Relief and Works Agency (UNRWA) in their flash appeal of December 31.
EU DELEGATION DUE IN EGYPT
An EU delegation comprised of the French, Swedish and Czech foreign ministers was due in Egypt on Sunday for talks on ending the violence ahead of French President Nicolas Sarkozy's mission to the region.
"You are not going to convince me that the EU cannot demand a ceasefire from Israel," said Shahid. "It is obvious that we need a tougher stance and if needed, sanctions."
Sarkozy will travel to the Egyptian Red Sea resort of Sharm el-Sheikh on Monday for talks with President Hosni Mubarak before heading to Ramallah to meet Palestinian president Mahmud Abbas.
The French president will hold talks in Jerusalem later Monday with Israeli Prime Minister Ehud Olmert whose government has rejected a French call for a 48-hour humanitarian truce.
On Tuesday, he travels to Syria for talks with President Bashar al-Assad and to Lebanon to visit French troops serving in a UN force in south Lebanon.
UN FAILS TO AGREE ON CALL
The U.N. Security Council has failed to agree on a statement calling for an immediate ceasefire in the Gaza Strip after the United States argued a return to the situation that existed before Israel's ground invasion was unacceptable.
After nearly four hours of closed-door consultations late Saturday, members of the council emerged without reaching agreement that would have asked Israel and Hamas to end eight-day hostilities that have claimed the lives of at least 460 Palestinians.
The meeting was the Security Council's third since the conflict erupted on December 27.
French Ambassador Jean-Maurice Ripert, who presides in the council this month, said "there was no formal agreement between member states" on a Gaza statement.
"But I have noted strong convergences about our concern at the escalation of violence and the deterioration of the situation and strong convergences on our call for an immediate, durable and respected ceasefire," Ripert told reporters after the meeting.
A draft statement submitted earlier for the councils consideration by Libya on behalf of the Arab League had expressed "serious concern" about the ground invasion and called on the parties "to observe an immediate ceasefire and for its full respect".
However, the document made no mention of the ongoing Hamas rocket attacks on Israeli territory that Israel said prompted its retaliatory offensive against Gaza, and the British and U.S. ambassadors said the draft seemed too partial.
U.S. deputy envoy Alejandro Wolff, talking to reporters after the consultations, said Washington believed it was important that the region "not return to the status quo" that had allowed Hamas to fire rockets into Israel.
"The efforts we are making internationally are designed to establish a sustainable, durable ceasefire that's respected by all," Wolff said. "And that means no more rocket attacks. It means no more smuggling of arms."
As Israel's closest ally, Washington has regularly vetoed Security Council resolutions it sees as too critical of the Jewish state.
Libyan Ambassador Giadalla Ettalhi said the impasse had produced "a sad day for the Security Council" as it failed once again "to voice its outrage at the escalation of the situation in Gaza."
The Libyan draft, however, still remains on the table, and Arab foreign ministers are expected here next week to push for a ceasefire statement. They will be joined by Western-backed Palestinian Authority president Mahmud Abbas.
MIDEAST NATIONS CONDEMN INVASION
Israel's ground offensive in the Gaza Strip was roundly condemned across the Middle East on Sunday, with Egypt also accusing the U.N. Security Council of failing to act quickly to resolve the crisis.
Egyptian Foreign Minister Ahmed Abul Gheit said Israel's incursion into the impoverished territory on Saturday night came in "brazen defiance" of international calls to end the offensive it began with air strikes on December 27.
"The Security Council's silence and its failure to take a decision to stop Israel's aggression since it began was interpreted by Israel as a green light," he said in a statement as Israeli forces rumbled into Gaza.
A Jordanian government spokesman said the invasion "will have dangerous repercussions and negative effects on the regions security and stability," state-news agency Petra reported.
Foreign Minister Salah Bashir met ambassadors from the U.N. Security Council five permanent members and urged speedy "international action to end these attacks."
His statement came after Arab League chief Amr Mussa accused the U.N. Security Council of ignoring the crisis in Gaza.
GAZA TO BE ISRAELI GRAVEYARD
Gaza will become Israel's graveyard, the speaker of Iran's parliament was quoted as saying on Sunday after the Jewish state launched a ground offensive deep into the coastal Palestinian territory.
Israeli tanks and infantry battled Hamas fighters in the Gaza Strip on Sunday after eight days of deadly air strikes failed to halt the Islamist group's rocket attacks on Israel.
"The Zionists faced the powerful resistance of the zealous Palestinians ... the Zionists should know that Gaza will become their graveyard," the semi-official Mehr News Agency quoted speaker Ali Larijani as telling parliament.
MPs shouted "down with Israel, down with the Zionists," Mehr reported.
Iran does not recognize Israel, which has accused Tehran of supplying Hamas with weapons. The Islamic Republic denies the allegation, saying it provides only moral support to the group.
Kripto Para Piyasaları için Bigpara