Erdoğan's tirade risks hurting image in West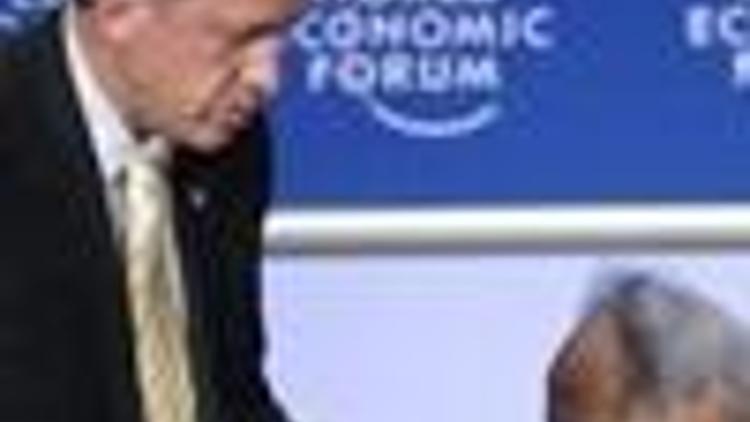 refid:10895714 ilişkili resim dosyası
ANKARA - After PM Erdoğan's rhetoric reaches new heights, this time in person with the Israeli president, there are fears the repercussions will damage more than just short-term ties with Israel.
"It is the second time within a week (after Brussels) that Erdoğan is making a statement on European soil which is not very much welcomed by the European Union. One can doubt what Turkey will benefit in the European arena from such appearance," an international observer told the Hürriyet Daily News & Economic Review Friday.
Despite the fact that Prime Minister Recep Tayyip Erdoğan's heavy rhetoric against Israel throughout the Gaza crisis sent shockwaves through Tel-Aviv, Turkish and Israeli officials have tended to downplay any talk of long-term damage to bilateral relations.
"Just as the two countries managed to overcome crises in the past, today will be the same," Israeli Ambassador to Ankara Gabby Levy said at a press conference yesterday. He stressed relations would return to normal, while calling on both sides for calm.
Military ties remain intact

No damage is expected to the two regional allies' military cooperation either. The Turkish army said Friday that Turkey's military relations with all countries, including Israel, was based on national interests and underlined there was no problem in the scheduled delivery by Israel of Heron Unmanned Aerial Vehicles.
"If you look on the ground there is no cancelation of any project, or nothing, but on the rhetoric, for sure there is problem. We have submitted quietly clearly our disappointment with the Turkish policy through diplomatic channels," said a diplomatic source.
Only one day after the heated exchange with Erdoğan at the World Economic Forum, Israeli President Shimon Peres said he hoped relations with Turkey would not be hurt. "We don't want a conflict with Turkey," he said.
"I don't see this as a personal or national problem. The relations can remain as they are. My respect hasn't changed," said Peres in Davos, hoping that Turkey would continue to be a moderating force in the Middle East. "Turkey should be an answer to Iran ... they offer a choice to the Middle East. I hope they will continue to do it."
Speaking at an inauguration ceremony in Istanbul on Friday, Erdoğan repeated his reproaches were not against the Israeli people or Jews but against the policies of the Israeli administration. "We are not getting radical. We are not letting anyone stain the honor of the country," he said.
President Abdullah Gül has defended the prime minister's actions, saying: "Nobody should expect the prime minister of Turkey to swallow a disrespectful act. He gave the necessary response."
'Not a tribal leader'

In Istanbul, Erdoğan said he was present at the panel discussion not as a tribal leader but as the Prime Minister of the Turkish Republic, "Those at home and abroad should understand well the strength of Turkey and act accordingly."
Erdoğan's severe criticism received praise from Hamas while leading to suspicions about the direction of Turkey's foreign policy. "Turkey's foreign policy does not change overnight," a Turkish diplomat told the Daily News. The prime minister's rhetoric will not be helpful for Turkey's intermediary position in the Middle East, as a country trusted by the Israelis and Palestinians, European observers said, while considering Erdoğan's reproaches as an election plot ahead of the local polls in March.
"(Erdoğan's Davos appearance) is not a turning point but it is clear that the impact is not good and how Turkey will make it up depends on fine-tuning in the very long term," said an EU diplomat in Ankara.
U.S. President Barack Obama's special envoy for the Middle East, former Senator George Mitchell was expected in Turkey on Sunday but the trip had to be postponed due to scheduling conflicts and technical issues with his aircraft, said diplomatic sources.
The postponement has nothing to do with Erdoğan's outburst in Davos, said the sources, adding the trip was delayed before the panel discussions began. Mitchell, who is still in the region, will, however, move ahead with scheduled trips to Saudi Arabia and Jordan, the Daily News learned. His visit was going to mark the first official encounter between Ankara and Washington since Obama took office as the 44th president of the United States on Jan. 20. A Turkish diplomat said a new date would be set for the visit. Meanwhile, Palestinian leader Mahmoud Abbas will arrive in Turkey on Feb. 7 at the request of Turkey, it has been revealed. The program of the Palestinian leader is not yet clear.
Kripto Para Piyasaları için Bigpara
While the prime minister's actions and accusations in Davos may inevitably cause an immediate strain in bilateral ties with Israel, the outburst could also damage Turkey's future role as mediator in the Middle East and hurt its image in the West.