Economic crisis hits Turkish rakı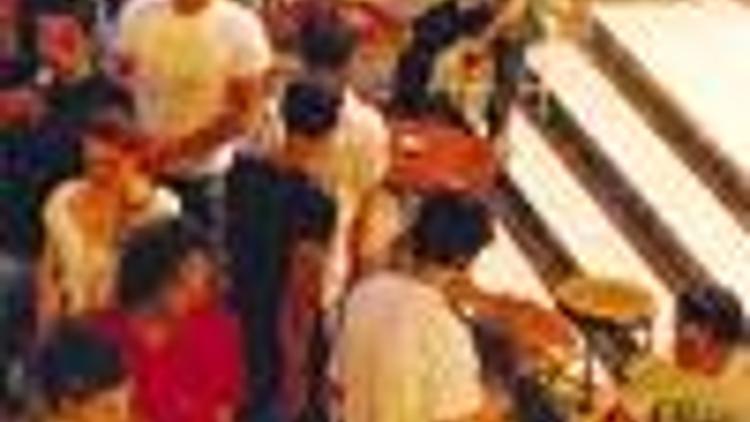 refid:10920615 ilişkili resim dosyası
ISTANBUL - Turkey's unofficial national drink rakı is loosing its popularity as the global crisis continues to bite into household budgets.
With rows of historic pubs next to each other, the famous Nevizade Street is considered to be Beyoğlu's largest alcohol-consuming area. Only a year ago the rakı consumption in Nevizade was 100 crates per day. That figure has dropped 30 percent as the global turmoil has deepened. Struck by the crisis, people are switching from rakı to beer, a cheaper alternative, according to Nevizade bar owners. Beer consumption in the street's bars increased 40 percent, they said.
"People have turned to lower-priced alcoholic beverages. Today the consumption of rakı has dropped to 80 crates per day. The consumption of beer is at about 10 50-liter barrels a day on Fridays, Saturdays and Sundays, said Tülay Ece Güneysu, president of the Nevizade Artisans Association.
High private consumption tax

"There are nearly 2,800 bars and restaurants in Beyoğlu. They are each paying 19 separate taxes. There is also the private consumption tax, or ÖTV, implemented on rakı, which is very high. That makes rakı a much more expensive drink compared to others. That is another reason for the declining demand in rakı," said Güneysu. "In the past Beyoğlu was the primary location for those who prefer high-alcohol beverages such as rakı. However, the customer profiles have changed significantly since the 2001 economic crisis hit Turkey. Currently we entertain more college students," she said.
Ahmet Er, who owns four establishments called Vera in Nevizade, said that the entertainment industry has really been hit by the global economic crisis. The turnover of the establishments located in Nevizade has declined 40 percent, said Er, who is also the vice president of the Nevizade Artisans Association.
"The troubles started with Beyoğlu's never ending excavations. And now people are edging away from entertainment due to the crisis. The sum of the insurance payments for my employees per month is 12 billion Turkish liras. Adding electricity and natural gas payments on top of that, the expenses eat up almost all my income. I own one of the biggest establishments on this street. I cannot even imagine what the smaller shops are going through," said Er.
Prices for alcoholic beverages have not increased in the past three months, said Er, adding that many bars and restaurants in Beyoğlu could come to the point of closure due to the expected smoking ban in July.
Sales decline in Asmalımescit

Rakı still owns the throne in Asmalımescit, which is known as a bohemian area in Istanbul's Beyoğlu district. But restaurateurs of Asmalımescit also say that here has been a 20 percent decline in rakı consumption compared to previous years.
Nearly three crates of rakı are consumed in an establishment that can fit 100 people in Asmalımescit, according to Cavit Saatçi, owner of Cavit restaurant.
"We used to sell three to 43 crates of rakı per day. Sales have declined by 20 percent. Demand in appetizers also dropped, and all that certainly has caused a decline in our turnover. Customers, who used to eat here twice a week, now come once a week. One person used to pay 60 liras per meal. Now they haggle to pay 50 liras," said Saatçi.
The tavern culture is going through it final throes, according to Onur Orhan, the operating manager of Gedikli Meyhane. "We used to sell 24 [70cl] bottles of rakı. That figure is now 12. Interest in appetizers dropped. Our turnover has declined 25 percent," he said.
"Alcoholic beverages are mostly consumed in homes nowadays, mainly because of supermarket discounts," said Turan Bakıcı, the owner of Taksim Sanat Evi, which is home to three separate bars on Sıraselviler street, also located in Beyoğlu.
"I believe the tavern culture will vanish in 10 years. There is a major decline in customers compared to last year, but our expenses are the same. Taksim Sanat is large enough to host 600 people, however the number of our customers often do not reach half that," he said.
Kripto Para Piyasaları için Bigpara
Rakı, Turkey's unofficial "national drink," has lost its throne to beer in Istanbul's Beyoğlu district, where it used to be the best seller. The economic crisis has impacted both the beloved drink and local establishments.