DTP challenges PM in Kurdish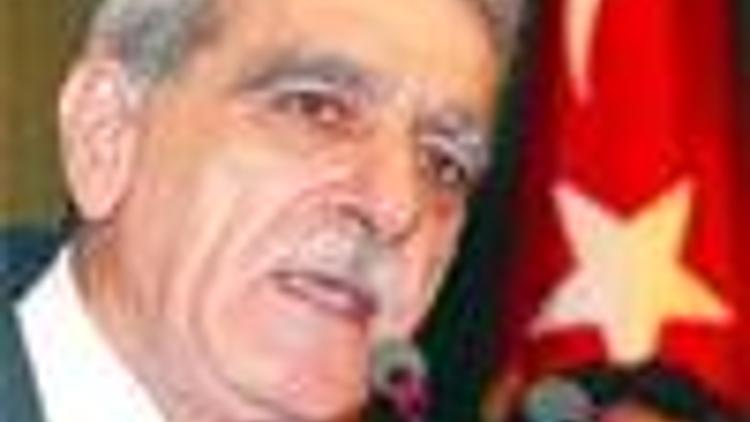 refid:11076708 ilişkili resim dosyası
ANKARA - Leader of the Democratic Society Party, Ahmet Türk, has thrown down the linguistic gauntlet in a direct move to test the depth of sincerity in the ruling Justice and Development Party's recent gestures of concession to the country's Kurdish speaking population
Little time has passed since the government launched a state channel devoted to the Kurdish language and Prime Minister Recep Tayyip Erdoğan called for an amnesty for previously banned Kurdish singers and spoke a few words in Kurdish himself during a party rally in Diyarbakır.
And yet, immediately Parliament TV ended its live broadcast of Türk's speech, "because using a language other than Turkish in speeches in Parliamentary is forbidden under the Constitution of the Republic."
"Today is Mother Tongue Day and the prime minister has spoken Kurdish, so why can't we?" said Türk, after his parliamentary group meeting.
Parliament Speaker Köksal Toptan said using a non-Turkish language during Parliament meetings is not permitted. "Mr. Türk's act is in violation of the Political Parties Law and I, however, cannot do anything about it," Toptan said, adding that Parliament TV did the right thing to stop the broadcast. "The fact that TRT 6 is in Kurdish has nothing to do with this affair. Just like the prime minister speaking in Kurdish has no relation to this affair. Speaker assistants and stenographers, do not know the language Türk used," Toptan said in response.
"Türk must have observed the rules and used Turkish only. But I think TRT's censure of a party leader is wrong," main opposition Republican People's Party, or CHP, spokesman Mustafa Özyürek said, speaking to private channel NTV.
The Parliament Speaker's office announced that Türk's speech was an "open violation of the Constitution."
Parliament's printing house said the Kurdish language was an "unknown language" after refusing to print greetings cards prepared by DTP Deputy Osman Özçelik a few months ago. Özçelik's greeting card celebrated the Feast of Sacrifice in both Turkish and Kurdish. Toptan had requested that Parliament's minute keepers refer to the Kurdish, not as "an unknown language" as has been the practice since 1991, but as "a non-Turkish language."
'Kurdish forbidden to Kurds'


Türk recalled that UNESCO has declared Feb. 21 the Mother Tongue Day in commemoration of Bangladesh's struggle for its mother tongue in 1952. Türk based his actions on the European Convention of Human Rights and said multilingualism contributes to cultural richness.
TRT 6 may be in Kurdish but broadcasting in Kurdish for private channels is still forbidden, Türk said. "The prime minister may use Kurdish at party rallies, but we are not allowed to do the same. Kurdish is free for the state, but forbidden for Kurds," Türk said.
"In order to convey the message that the fear of Kurdish is artificial, I will continue my speech with my mother tongue," he said. Türk's Kurdish speech was barely understood by some journalists of Kurdish origin and a single journalist who spoke the same dialect with Türk provided a translation. Amid applause from his party, Türk said he vowed to speak Kurdish in an official meeting one day after seeing that Kurds were beaten for speaking Kurdish in military prisons during the military coup era. The March 21 Newroz Celebration is a rebellion against oppression, Türk said.
Article 81 of the Political Parties Law stipulates that political parties may not use languages other than Turkish during their meetings.
Türk said subsequent party meetings would still be held in Turkish.
Leyla Zana, a Social Democrat People's Party, or SHP, deputy of Kurdish origin from Diyarbakır, spoke Kurdish while taking the oath in 1991. Parliament Speaker Aki Rıza Septioğlu intervened in her speech and she was deprived of her deputyship. She was imprisoned in 1995.
Kripto Para Piyasaları için Bigpara
In an incisive linguistic challenge at the heart of Turkey's ongoing language politics, Democratic Society Party, or DTP, leader Ahmet Türk spoke in Kurdish for half his speech during his party meeting in Parliament yesterday.