Hurriyet Daily News with wires
37 arrested in new 'Ergenekon' wave in Turkey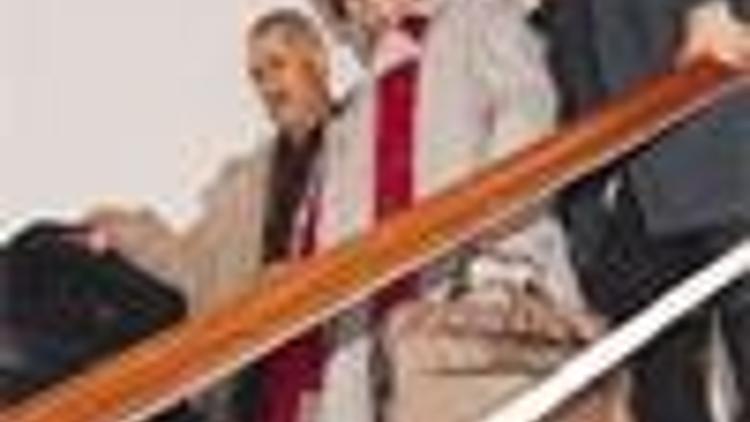 refid:10727272 ilişkili resim dosyası
ISTANBUL - With the Ergenekon trial progressing, detentions are continuing across the country as 37 more suspects are taken into custody. This round of high-profile detainees includes retired generals, former top academic and former head of the police's anti-terror squad
Among the latest detainees in the investigation of the Ergenekon gang were retired generals Tuncer Kılınç and Kemal Yavuz, retired Maj. Gen. Erdal Şenel, socialist and writer Yalçın Küçük, former head of the police department's anti-terrorism squad, İbrahim Şahin, journalist Engin Aydın and former head of the Higher Education Board, or YÖK, Professor Kemal Gürüz, according to reports.
The police also searched the home of the former Supreme Court of Appeals chief prosecutor, Sabih Kanadoğlu, whose opinions concerning many constitutional matters, including the election of the president and the closure case of the ruling Justice and Development Party, or AKP, created huge debate in the country. He is known as a staunch secularist, as are most of those detained yesterday.
The police also searched the homes of the detained suspects. The Doğan news agency reported that copies were made of documents found on computers.
The operation involved detaining suspects in six cities, including Istanbul, Ankara and İzmir, with all suspects to be sent to Istanbul after initial questioning.
It was also reported that Yeditepe University and İstek Vakfı, both founded by former Istanbul Mayor Bedrettin Dalan, were also searched. Dalan is said to be in the United States. Hürriyet reported that Dalan had said his youngest son was among those detained.
The Doğan news agency reported that hand grenades and rifles were seized in the homes of an army captain who was detained in İzmir.
The former anti-terror chief of police, İbrahim Şahin, was also implicated in the Susurluk case that showed illicit links between the police department, the mafia and politics. He was found guilty and sentenced to six years in prison in February 2001. After serving a few months in prison, he was released and then pardoned due to a medical condition. The Ergenekon case started in June 2007 after the discovery of 27 hand grenades in a shanty house in Istanbul's Ümraniye district that belonged to a retired noncommissioned officer. The discovered grenades were the same type as those used in attacks on daily Cumhuriyet's Istanbul offices in 2006.
The findings led to scores of detentions, putting more than 100 journalists, writers, gang leaders and politicians under investigation in what turned into a terror investigation. It seeks to crack down on an alleged ultra-nationalist gang named Ergenekon that sought to topple the government by staging a coup in 2009 after initially spreading chaos and mayhem. Ergenekon was originally a pre-Islamic Turkish saga that tells of Turks' re-emergence from defeat by tricking their enemies under the guidance of a gray wolf.
Earlier bombings of Cumhuriyet, the murder of Hrant Dink, the murder of the top judge of the Council of State and alleged plans for the assassination of high-profile figures in Turkish politics are sometimes associated with the case. Last month, the Supreme Court of Appeals ordered that a trial about the 2006 Council of State killing be merged with the Ergenekon trial, for which hearings are being held daily and which is expected to take months to complete.
Yesterday's operation followed several from the past year. Police raided the houses of 11 people in a previous wave of detentions March 21, including Cumhuriyet's chief columnist and licensee, İlhan Selçuk, 83; Workers' Party, or İP, leader Doğu Perinçek; Istanbul University's former rector Kemal Alemdaroğlu; retired generals Şener Eruygur and Hürşid Tolon and retired Maj. Gen. Veli Küçük.
Many detainees are retired officials who gathered in associations linked to the ultra-nationalist Kuvayi Milliye (National Forces) Ğ a reference to irregular forces that led the Turkish independence war in the early 1920s. Eighty-six suspects are currently on trial in Istanbul for attempts to create an atmosphere to facilitate a coup that would topple the ruling Justice and Development Party, or AKP. Among the suspects who are being tried are retired army officers, politicians and lawyers. The defendants in the coup plot case are accused of planning assassinations and bombings to create chaos and force the military to step in. It is expected that more defendants will be attached to the trial as the investigation continues. The investigation has been criticized in the past for being based on flimsy evidence and jailing suspects for long periods of time without charging them.
Kripto Para Piyasaları için Bigpara
Thirty-seven people were detained yesterday as part of the ongoing investigation into a gang accused of plotting a coup.