Anatolian Agency
Haber Giriş: 25.07.2008 - 09:20

,
GOOD MORNING--TURKEY PRESS SCAN ON JULY 25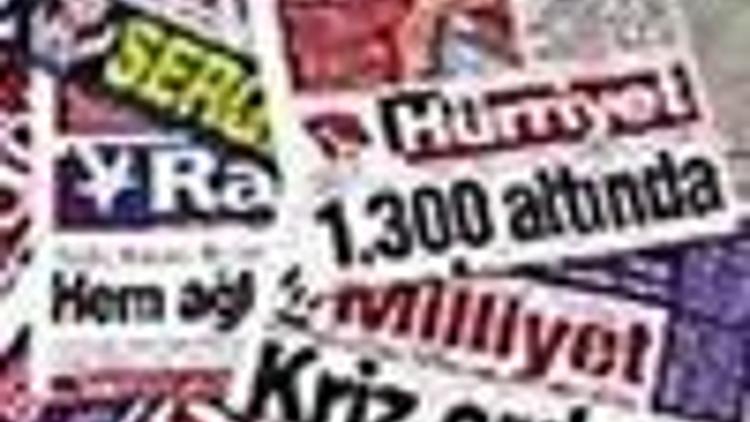 refid:9513227 ilişkili resim dosyası
These are some of the major headlines and their summaries in the Turkish press on July 25, 2008. Hurriyet English does not verify these stories and does not vouch for their accuracy.
HURRIYET
--PM ERDOGAN SPEAKS
Prime Minister Recep Tayyip Erdogan spoke to Hurriyet about recent turbulent developments. Hurriyet's editor-in-chief asked, Erdogan answered.
-What did Berlusconi offer to Erdogan at their recent meeting? What was this offer that would become a very hot issue in economy world.
-"If you have a plan, we can discuss it?" Erdogan told main opposition CHP leader Deniz Baykal. What is that plan?
-What does he think about presidential election, headscarf issue and accusations that he was filling the payroll with his loyalists?
-Erdogan says there are two leaders who understand him. Who are these leaders?
-Two leaders, whose spouses were wearing headscarves at the meeting for Mediterranean Union in Paris, were from Turkey. What did they feel at that atmosphere?
-What does he think about criticism that his Justice and Development Party (AKP) was creating its own rich people?
All his answers are in Saturday's edition of Hurriyet.
--CALL FOR PEACE TRAIN TO YEREVAN
Azerbaijani President Ilham Aliyev and Georgian President Mikheil Saakashvili joined Turkish President Abdullah Gul to break ground for the part of Baku-Tbilisi-Kars railway in Turkish soil. Gul called on Armenia to participate in the project that would revive the historical Silk Road.
--COMMANDERS OF FUTURE
Something first happened at Turkish Armed Forces on Thursday. Two woman soldiers left their mark at the graduation ceremony held for 249 soldiers and 29 civilians at War Academies.
First Lieutenant Yasemin Bayraktutan and Pilot Captain Bilgehan Bulbul became staff officers and opened their way to superior ranks such as admiral or general.
MILLIYET
--"THOSE WHO TOOK US OVER, WERE NOT GERMANS"
Lars Holger Reime, one of three German mountaineers who were kidnapped by PKK terrorists during a climbing expedition on Mount Agri on July 8 and released after 12 days, said in an interview with the German Suddeutsche Zeitung newspaper that they spent their nights in caves full of insects and feces. He said that after 12 days, a person came by a vehicle and took them over from PKK terrorists.
Some German newspapers claimed that after Turkey and PKK could not agree, German Foreign Intelligence Agency (BND) officials held direct contacts with the terrorist organization for release of the hostages. The same newspapers also claimed that the hostages were found by German Embassy officials.
--ISTANBUL: ONE OF MOST EXPENSIVE CITIES
Istanbul has been ranked 23rd in the Mercer's 2008 Cost of Living survey. According to the survey, Moscow is still the most expensive city for expatriates while Asunción in Paraguay is the cheapest.
Istanbul, which was ranked 38th in last year's list, became the 23rd most expensive city in the world. Mercer's survey covers 143 cities across six continents and measures the comparative cost of over 200 items in each location, including housing, transport, food, clothing, household goods and entertainment.
SABAH
--IRON SILK ROAD TO KARS
Groundbreaking ceremony for Turkey leg of Baku-Tbilisi-Kars railway project was held with participation of Turkish President Abdullah Gul, Azerbaijani President Ilham Aliyev and Georgian President Mikheil Saakashvili. The project worth of 400 million USD will connect Baku to Istanbul. When it is completed in 2011, it will carry 6.5 million tons of cargo and 1 million people in the first year.
--ALL INCLUSIVE EXCEPT DOCTOR
The foam party disaster in southern province of Antalya, which killed three people, revealed that there is no doctor at hotels in Antalya (which host millions of tourists every year) after 6:00 p.m. First aid was made 20 minutes after the disaster as there was no doctor at the hotel. Three people including two foreign tourists were accidentally electrocuted at a foam party in a hotel in Antalya.
VATAN
--SCANDAL
It was revealed that retired Gen. Metin Yavuz Yalcin's all private telephones conversations were tapped and some actions were taped during his term in office as the chairman of the General Staff Department of Operations. Those tapes were posted in an internet site giving rise to suspicious whether Yalcin was blackmailed.
--HE WAS SORRY
Ramazan Akyurek, director of the Security Department Intelligence Unit and former chief of police in the northern province of Trabzon, surprised everyone after expressing his regret over the press' negative treatment against Erhan Tuncel who incited the killing of journalist Hrant Dink while informing the parliamentary commission which was set up to inquiry into the killing of the journalist.
CUMHURIYET
--"NO CRISIS WOULD EMERGE IF IT IS DISBANDED"
Former parliament speaker Husamettin Cindoruk talked about recent scenarios. He said an acting prime minister could take the seat and sign Supreme Military Board decisions if prime minister is disbanded or resigns.
Pointing out that prime minister would lose his qualifications and competence to hold the post if the Constitutional Court rules that ruling AKP be closed, Cindoruk said, "the government can go on with an acting prime minister to be assigned."
--CHAOS SCENARIOS
Several chaos scenarios are circulating as the closure case and Supreme Military Board meeting coincided. According to these scenarios, if ruling AKP is closed, PM Recep Tayyip Erdogan will resign, appointments regarding the new commanders of Turkish military will not be made public in August and 4 full generals will naturally be retired, which could cause problem within the military.
RADIKAL
--HARIS PASSED FROM HARBIYE
Haris Alexiou, who was considered like Turkey's musician Sezen Aksu, gave a concert at Harbiye open-air hall in Istanbul within the scope of Most Concert Series. Audiences performed sirtaki during the concert. Alexiou encored twice.
--LOOK WHAT MAKES SORRY THE CHIEF POLICE
Security Department's Intelligence Chief Ramazan Akyurek said regarding Erhan Tuncel who was the suspect of assassination of journalist Hrant Dink in 2007: "Tuncel is a person who gave intelligence about an incident which offended our country in the international arena a little bit." Tuncel was a police informer for Akyurek while he was chief of Trabzon Security Department. Akyurek also said that he was deeply sorry that Tuncel, who was working for the state, was offended very much in the media.
YENI SAFAK
--HABLEMITOGLU'S WIFE RESIGNS FROM KEMALIST THOUGHT ASSOCATION
Prof. Dr. Sengul Hablemitoglu, wife of Associate Prof. Dr. Necip Hablemitoglu who was killed in an armed attack in front of his house in 2002, has resigned from the Kemalist Thought Association over claims about the assassination of her husband. Earlier, it was alleged that retired Gen. Sener Eruygur, who was detained under the Ergenekon probe, incited the assassination of Hablemitoglu.
--CRIMEAN-CONGO WITHOUT HEMORRHAGE
A nurse has died after being infected with the Crimean-Congo hemorrhagic fever (CCHF) virus. It was revealed that 26-year-old Arzu Ogren was not bitten by a tick. Now, doctors are trying to explain how she was infected with the deadly CCHF virus.
--MAGISTRATE OF GLADIO ON ERGENOKON: SHOCKING TIES TO BE REVEALED
Magistrate Felice Casson, who destroyed the clandestine stay-behind organization Gladio in Italy, has said that if the Ergenekon investigation was not hampered, shocking ties and information would be revealed. Casson said that he decoded the Gladio after examining the archives of the military intelligence unit. He indicated that Susurluk process was the beginning, but it was left half-finished. Casson added that the organization could be eradicated with the support of independent judiciary and public opinion.


Haber Yorumlarını Göster
Haber Yorumlarını Gizle